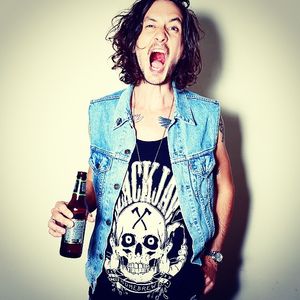 Bio 
"It's as if The Devil is on his heels..." - Alt-Country Forum
Well-travelled troubadour, Dan German, has opened for C.W Stoneking, Elliott Brood, Bob Wayne & Scott Kelly to name a few. Raised on Bruce Springsteen, it shows. Dan is a proper storyteller. His songs have the detail and intimacy of The Felice Brothers at their finest and his strong narratives harbour a darkness akin to Townes Van Zandt. 
The thread of the rambling man runs through his work in the same way it runs through the man himself. He's lived and toured all over the world. He's gotten good at leaving and he's gotten good at writing about it. These are traveling songs; songs about being lost; living hard, living free and dying; singer-songwriter stuff but the harder kind. 
Dan is currently finishing up his second album, "Happy Songs", with his favourite ramshackle outfit of over-qualified musicians in The Netherlands following on from his highly acclaimed debut, "Never Settle", which was mastered by internationally renowned 4-time Grammy winner, Darcy Proper. 
Dan played Bevrijdingspop in Summer 2022 with the full band. 
Plus, he has recently teamed up with Quentin Dean of '"Them Peckin' Boys" blending German's powerful voice and alt-folk song-writing and story-telling with Dean's exceptional banjo-twangin' country and bluegrass. They will be hitting the road for a string of live shows across The Netherlands, The UK and Germany in 2023. 
Dan will be touring Canada, solo, in March 2023.