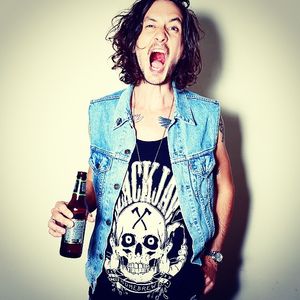 Bio 
"It's as if The Devil is on his heels..." - Alt-Country Forum 
Well-travelled troubadour, Dan German, has opened for C.W Stoneking, Elliott Brood, Bob Wayne & Scott Kelly (of Neurosis) to name a few. Raised on Bruce Springsteen, it shows. Dan is a proper storyteller. His songs have the detail and intimacy of The Felice Brothers at their finest and his strong narratives harbour a darkness akin to Townes Van Zandt. These are traveling songs; songs about being lost; living hard, living free and dying; singer-songwriter stuff but the harder kind.  
With Quentin Dean (of Them Peckin' Boys) German blends his own powerful voice and alt-folk song-writing and story-telling with Dean's exceptional banjo-twangin' country and bluegrass. Their vocal harmonies, like the connection between them onstage, would have you believe they are intertwined somehow at the soul. As a duo, they have been blowing crowds away all across Europe & the UK throughout 2022/23. 
From Paris, Marie Herveline (of The Mourning Glories & confidant to Sierra Ferrell) joins on washtub with a whole lotta swing and her own unparalleled vintage cowgirl style & unapologetic cool. Queen of the yodel, if Marie's in town, the band performs as The Yodel K'nodels. 
And Joar de Baat (of Mantra) fills the rhythm section as both studio and touring drummer, with a Glenn Kotche approach to creative & nuanced percussion. 
German began 2023 with an incredibly well-received solo tour of Canada. Since then he has opened for Angry Zeta, Fog Holler, Vic Ruggiero (of The Slackers), Lauren Napier, Joey Henry's Dirty Sunshine Club & Gipsy Rufina. He has performed at the now world-renowned Muddy Roots Festival in Belgium. He has organised and executed two Germany tours this year and played all across The Netherlands. And to top it all, he just finished an enormously successful UK tour. He is looking forward to opening for The Mary Lee Family Band in Germany in October. 
The thread of the rambling man runs through his work in the same way it runs through the man himself. He's lived and toured all over the world. With an Australian wife, a Canadian son and a British daughter, all currently living in The Netherlands, he is a self-confessed international mess addicted to travel, new adventures and life on the run. He's gotten good at leaving and he's gotten good at writing about it. 
The rest of 2023 will see him focus on the production of his highly anticipated second studio album, "Happy Songs". in Haarlem, Netherlands, where he is now based.